MAIN SECTIONS > Home Gloucester Docks Sharpness Docks G&S Canal Vessels People Studies
G&S CANAL PAGES > Canal Intro Sharpness to Saul Saul Junction Saul to Gloucester Access Map


Gloucester Docks &
the Sharpness Canal

Two Mile Cut - Netheridge Bridge
Spring 2006
On 5 Apr 2006, sections of the bridge deck made by Qualter Hall in Barnsley were being lifted on to a framework of girders that would support them while they were being welded together. The bridge was designed with a clearance of 4.7m which means that it will only have to open for larger boats, thus minimising disruption to traffic on the bypass.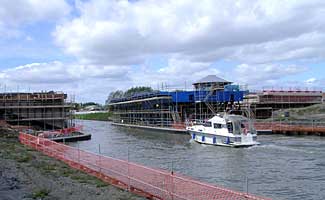 Summer 2006
During the summer, fifteen sections were assembled to make a deck 38m long capable of carrying four lanes of traffic. At the same time work continued on the bridge abutments and on the control cabin. The structure is founded on 71 deep bored piles and has used 2000 cubic metres of concrete and 350 tonnes of steel.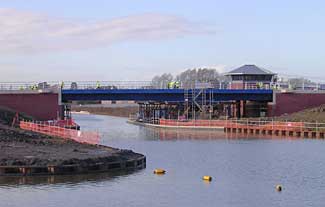 November 2006
The new bridge was swung across the canal for the first time on 20 November. To celebrate this stage of the project, the bridge was swung across the canal again on the following day so that it could be opened for the trip boat King Arthur carrying children from two local primary schools.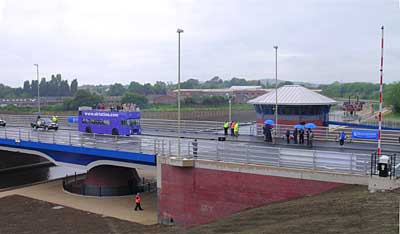 Bypass Opened May 2007
The last section of Gloucester's South West Bypass, including the swing bridge at Netheridge, was opened to road traffic on 25 May 2007. The official party arrived from Gloucester in the hotel boat Oliver Cromwell and went ashore to watch a tape being cut by the Chairman of Gloucestershire County Council, Mavis Lady Dunrossil. Following the ceremony, three vintage cars and an open-top bus carried official guests across the bridge in each direction before the road was opened to the public.
Return to Top Menu Copyright Hugh Conway-Jones 2006-07 Contact