MAIN SECTIONS > Home Gloucester Docks Sharpness Docks G&S Canal Vessels People Studies
G&S CANAL PAGES > Canal Intro Sharpness to Saul Saul Junction Saul to Gloucester Access Map


Gloucester Docks &
the Sharpness Canal

Two Mile Cut - Clearing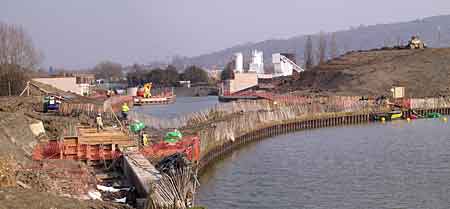 Filling the New Cut
Contractors Norwest Holst started letting water into the new cut on 13 March 2006, and it was almost filled when this picture was taken two days later looking east. The existing line of canal sweeps round to the right and then back to the left to pass in front of the white towers of the Cemex concrete plant in the distance.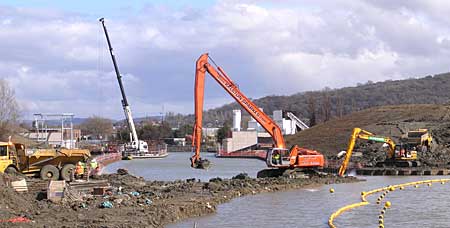 Removal of Western Plug
By the end of March 2006, the old piles had been removed and two diggers were clearing the western plug left while the cut was being excavated. A crane was helping to erect a framework for supporting the bridge sections that will be welded together on site to carry Gloucester's South West Bypass over the canal.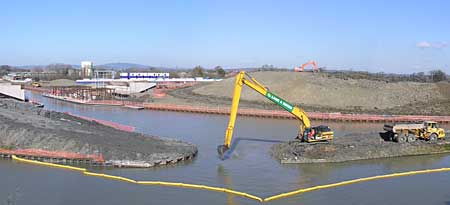 Removal of Eastern Plug
On 3 April 2006, work started on clearing away the eastern plug left while the new cut was being excavated. When this picture was taken two days later, an opening had been made between the new cut and the existing line of canal (in the foreground), and a small workboat made the first passage right through the new cut. To the left, in the distance, can be seen the bypass bridge under construction.
For project plans, earlier & later progress and historical background, see links above.
Return to Top Menu Copyright Hugh Conway-Jones 2006 Contact