MAIN SECTIONS > Home Gloucester Docks Sharpness Docks G&S Canal Vessels People Studies
G&S CANAL PAGES > Canal Intro Sharpness to Saul Saul Junction Saul to Gloucester Access Map


Gloucester Docks &
the Sharpness Canal

Two Mile Cut - Opening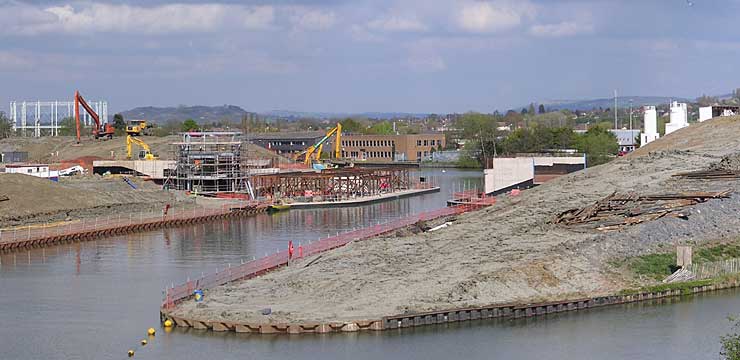 Two Mile Cut was opened to normal traffic on 27 April 2006 ready for an official opening on 5 May. The picture shows the new cut and the site of the swing bridge that will carry Gloucester's South West Bypass. The brown framework was constructed to support sections of the bridge temporarily while they are welded together on site, and the grey framework is the skeleton of the control cabin for the bridge. Beyond the bridge, the new cut rejoins the original line of canal to Gloucester which continues to the left past the buildings and the gas holder. The yellow buoys in the foreground block off the old channel which formerly swung left around the huge pile of spoil to pass in front of the white towers of the Cemex concrete plant in the right distance. This channel will be partly filled to carry the embankment for the bypass.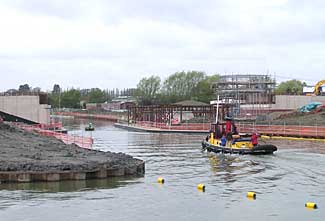 First Boats
The first boat to pass through the new cut on 27 April was the former Thames Conservancy tug Kennet, crewed by volunteer Friends of the National Waterways Museum. The first narrow boat to go down the canal was Oak Meadow from Gloucester and the first up was Witcombe from Saul.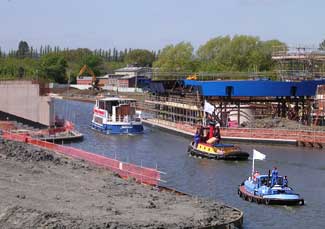 Official Opening
The official opening of the new cut on 5 May was performed by the passenger boat King Arthur breaking through a ribbon stretched across the canal at the site of the new bridge (where some blue deck sections had recently been delivered). King Arthur was escorted by the tugs Kennet and Severn Progress from the National Waterways Museum. Later, a colourful fleet of narrow boats from Saul passed up the canal on their way to Gloucester. For more photos of the boats attending the official opening, click here.
For project plans, earlier & later progress and historical background, see links above.
Return to Top Menu Copyright Hugh Conway-Jones 2006 Contact