Stroudwater Canal
After a slow decline, traffic on the Stroudwater Canal ceased in 1941, and much of the route became derelict, but the section to the south-east of Saul Junction continued to be maintained, as it served as a feeder bringing water from the River Frome into the Gloucester & Sharpness Canal. For an account of how the water supply was estblished in the 1830s, see the Battle of Whitminster Weir. The length up to Walk Bridge now provides moorings that are administered by the Saul Junction Boat Owners Club.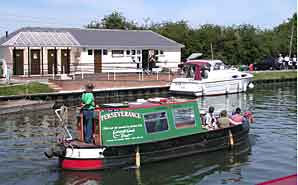 Heritage Centre and Boat Trips
Volunteers of the Cotswold Canals Trust have established a Heritage Centre at Saul Junction, which is open on Saturday and Sunday afternoons throughout the year and on Sunday mornings from April to October. Trust members have long campaigned for the restoration of the Stroudwater and Thames & Severn Canals, and the Centre aims to inform visitors about the history of the link to the Thames and the prospects for re-establishing it. The Trust volunteers also welcome the public on their boat Perseverance, shown right passing the Heritage Centre, on weekends during the summer.
Willow Trust
The Willow Trust is a charity operating passenger boats from Saul Junction which are specially designed to cater for groups of infirm and disabled people who do not have to pay anything as all costs are covered by donations.
Wycliffe Boat House
The white building immediately north of Saul Junction is the Wycliffe Sculling Centre housing the boats used by the boys of Wycliffe College, Stonehouse.
Saul Junction Boatyard