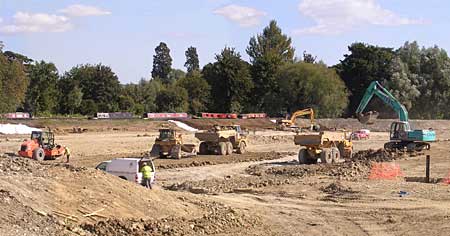 Early Excavations
Excavation work started on 30 July 2007. The photo taken on 10 September shows heavy plant working at the northern end of the site with the boats moored along the arm of the Stroudwater Canal in the background.
Pile Driving
In mid October, work started on driving the piles for supporting the jetties to which boats will be moored.

Winter Rain In Marina
This view from the nearby boat-yard crane on 8 January, shows most of the jetties in position and the excavation holding recent rain water. (Photo: Land & Water)
Water Let In From Canal
With the lining of the marina completed, water from the Stroudwater Arm began to be let in on 6 March. One of the stop planks across the entrance was raised a few inches to allow the water to flow into the huge excavation in a controlled way over a period of a few days.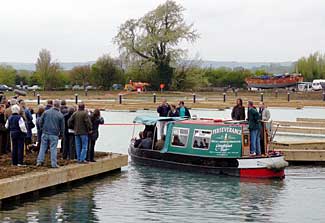 Marina Opened
The marina was opened on 25 April 2008 by David Drew MP aboard the Cotswold Canals Trust's trip boat Perseverance. The official party was followed into the marina by five other boats which all managed the turn into the entrance without difficulty.
For details of the facilities provided and the mooring tariff, see the Marina website. For a 360 degree view of the marina, see the BBC website.