MAIN SECTIONS > Home Gloucester Docks Sharpness Docks G&S Canal Vessels People Studies
G&S CANAL PAGES > Canal Intro Sharpness to Saul Saul Junction Saul to Gloucester Access Map


Gloucester Docks &
the Sharpness Canal

Two Mile Cut - Summer 2006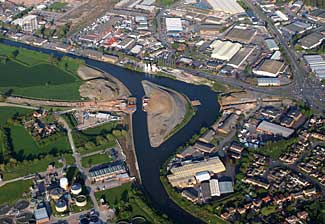 Aerial View
This aerial view shows the new channel cutting off the old bend and the canal continuing to the upper left towards Gloucester. It also shows the line of Gloucester's South West Bypass which will cross the new channel and the filled-in old channel to meet Cole Avenue on the right edge of the picture. (Photo: © Robert Bewley 5 May 2006)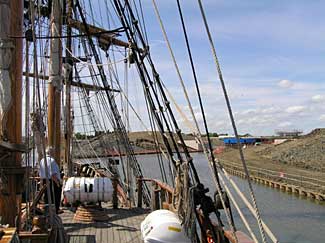 Tall Ship Uses New Cut
The Earl of Pembroke, that has featured in many films, was the first tall ship to pass through the new cut when she left Gloucester on 7 May. This was also a first for her pilot who had used the old bend when taking her up to Gloucester for overhaul. (Photo: Brian Furniss)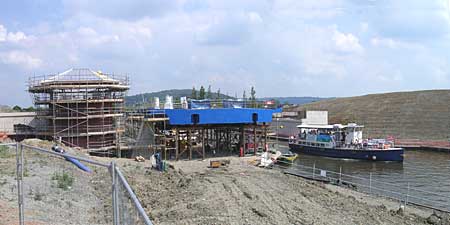 Public Viewing Gallery
The County Council provided a public viewing gallery overlooking the site of the bridge being built to carry Gloucester's South West Bypass over Two Mile Cut. The picture taken from the gallery on 8 June shows passenger boat Queen Boadicea II passing the blue sections of the the bridge deck that are currently being supported on a steel frame while being welded together. On the left, the structure of the bridge control cabin is taking shape. The public viewing gallery has been closed.

Further Information
For project plans, earlier & later progress and historical background, see links above.
Return to Top Menu Copyright Hugh Conway-Jones 2006-07 Contact