MAIN SECTIONS > Home Gloucester Docks Sharpness Docks G&S Canal Vessels People Studies
REGENERATION PAGES > Overview Main Docks Area Gloucester Quays Monk Meadow Quay


Gloucester Docks &
the Sharpness Canal

Sainsbury's Food Store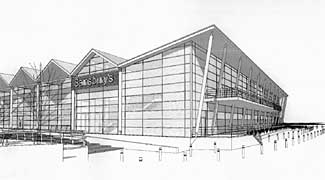 Plans
Sainsbury's put forward plans for a food store and petrol filling station in the Monk Meadow section of the Gloucester Quays regeneration scheme. The site is alongside the canal to the south of High Orchard Bridge. Designed by Stride Treglown of Bristol, the plans show a ground floor sales area of 46,736 sq ft and a first floor restaurant with a balcony overlooking the canal having direct access from the towpath. The plans also show parking for 443 cars and a bus stop on site.
Planning permission was given on 4 Mar 2008.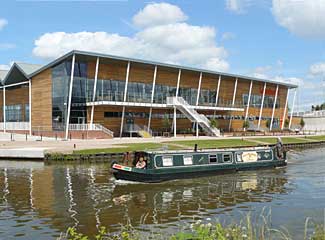 Progress
Contractors started site preparation work on 15 October 2008. Girders began to be erected on 8 December, and much of the exterior was complete by early March. Timber fendering has been provided along the canalside piling for the benefit of boaters.
The store opened on 17 June 2009.
Return to Top Menu Copyright Hugh Conway-Jones 2008-09 Contact