MAIN SECTIONS > Home Gloucester Docks Sharpness Docks G&S Canal Vessels People Studies
REGENERATION PAGES > Overview Main Docks Area Gloucester Quays Monk Meadow Quay

Gloucester Docks &
the Sharpness Canal

Gloucester Quays Plans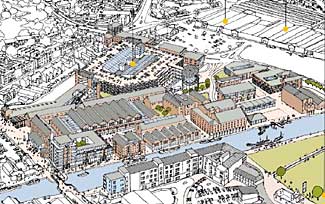 Bakers Quay
In the area behind Bakers Quay, the plans show a designer outlet shopping centre, a multi-storey car park, office and business units, cafes, restaurants, an hotel and some housing. The outlet centre will have a collection of shops offering large discounts on clothing and other specialist items that are last season's stock, end of line products, quality seconds or discontinued lines. (Outlet Centre progress, Restaurant Quarter)
The area includes a number of large warehouses and industrial buildings, many of which are being retained and refurbished for the new uses.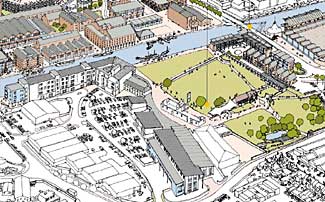 Llanthony
In the Llanthony area, the plans show the new Gloucestershire College, an open area around the remains of Llanthony Priory and a 90-bed hotel, housing and offices to the south. (Gloucestershire College)
The final stage of Gloucester's Inner Relief Road crosses the canal by a bridge that most pleasure craft will be able to pass under and so will only need to be opened for the occasional larger vessel. (High Orchard Bridge progress)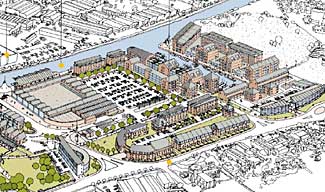 Monk Meadow
The plans show mainly housing around Monk Meadow Dock with a food superstore and large car park to the north. The housing will comprise a mix of sizes, styles and density, including so-called affordable housing. (Sainsbury's Food Store)
Planning Approval
Outline plans for the Gloucester Quays development were approved by Gloucester City Council on 23 Nov 2004 and were reviewed at a public inquiry in Nov-Dec 2005. The plans were approved by the Secretary of State for Communities and Local Government on 23 Jun 2006, subject to conditions. Site clearance work started in May 2007. For progress on specific aspects, see the links above.
Further Information
For commercial information about the development, see the Gloucester Quays website.
Return to Top Menu Copyright Hugh Conway-Jones 2004-08 Contact