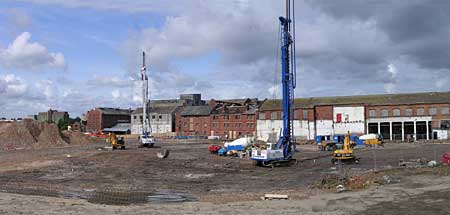 Site Preparation
Work started on clearing the site in May 2007, and the photo shows that by mid August most of the unwanted buildings had been demolished and pile driving had started. The building in the right background is the former Matthews furniture factory that will become part of the new outlet centre. The buildings in the left background are the former Downing's malthouses and Foster Brothers' oil & cake mills. These are not owned by the main developer, and independent refurbishment plans are being prepared for them.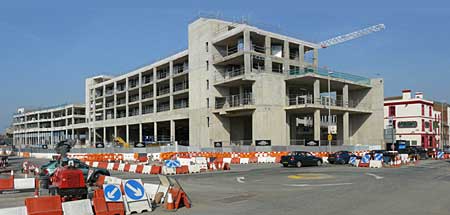 Construction Progress
Construction work started in October 2007, and three tower cranes were erected by early November.
A topping out ceremony was held on 6 May 2008 to celebrate laying some of the upper level of concrete in the structure of the outlet centre.
The distinctive gull-wing shaped steel and glass roof over the central courtyard was installed around the end of August.
The photo shows the view from the junction of Southgate St and St Ann Way on 20 Sep 2008.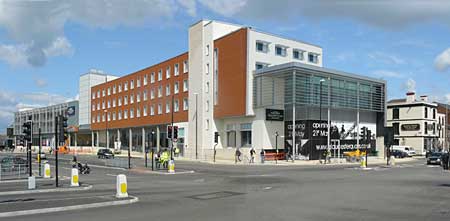 2009
By Feb 2009, the exterior of the building was well advanced, and fitting out of the interior was under way.
The outlet centre was opened to the public on 21 May 2009. (Photo right)
The upper floors of this corner opened as a 96 room Travelodge hotel on 1 July.