Schooners
The schooner rig, with large fore-and-aft gaff sails set on booms and usually with square topsails on the fore-mast, became increasingly popular during the nineteenth century. This rig was more efficient when sailing to windward and required less crew than the earlier square-rigged brigs, and two-masted schooners were also chosen by many owners to replace small brigantines. From the 1870s, larger three-masted schooners became preferred by some owners operating in the coasting trades and by those with medium sized vessels in the foreign trades.
Schooners in Gloucester
In the twentieth century, schooners called at Gloucester primarily to load Worcestershire salt to take to the bacon factories in Ireland. Sometimes they arrived with cargoes such as sand, gravel, road stone or coal, but often they came up the canal empty. Regular visitors included such well-known names as Camborne (Capt H Shaw), Dispatch (Capt H Watkins), M A James (Capt G Slade) and Excelsior (Capt W Williams). Kathleen & May delivered a cargo of road stone from Cornwall in the early 1930s and made another visit in 1945. She also called many times at Lydney to load coal for ports in the Bristol Channel and Ireland.
Kathleen & May Remembered
The late Capt Ken Shaw of Arlingham had happy memories of the days when "Dad and I were trading to the same places as the Kathleen & May, and I struck up a good friendship with Capt Jewell who owned the ship from 1931 onwards. Tommy Jewell was a good fellow - you always had a welcome there. He'd try to keep you on board and fry you up bacon and egg - a good old chap. When the auxiliary motor was put in, two of the top-sails were done away with, but they kept one yard with the big square sail for fair winds - you could set that from the deck. Tommy Jewell's last stronghold was down as far as Pembroke with animal feeding stuff from Avonmouth, but he gave up (in 1960) when there was no more work for such a small ship with small hatches. By then the coal trade was being carried by larger ships to ports like Cork and Dublin, and lorries took it round the coast to the small harbours where the schooners used to go."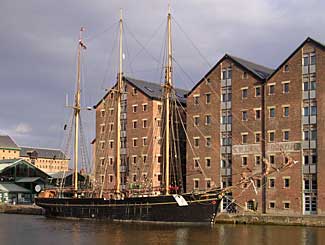 Kathleen & May Restored
After ceasing to carry cargoes, Kathleen & May was for many years looked after by the Maritime Trust and on show to the public in St Catherine's Dock, London, but lack of money for maintenance meant that her condition deteriorated. In 1998, she was purchased by Steve Clarke from Bideford, and he arranged for her to be restored to sailing condition. She is currently based at Bideford and is a welcome visitor at local maritime festivals, including the Gloucester Tall Ships Festival in October 2007 (picture right). In 2009, she became actively involved in the shipment of wine from France to Dublin and Bristol under sail, making her the last remaining cargo ship trading under sail in the UK. For other recent news, see the crew's website.
Sources: Glos Arch D2460 Arrivals at Sharpness; Memories of Harry Allison & Ken Shaw. Top photo: K&M Trust.