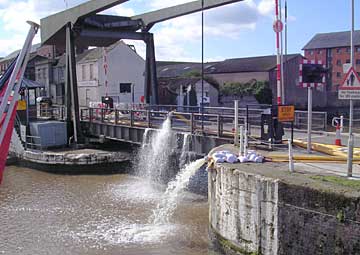 Helping to Save a Substation
One complication in 2007 that did not arise in 1947 was that the canal was required to receive water pumped from an electricity substation that was flooded. The Castlemeads substation across the river from the docks was put out of action for a time, blacking out parts of Gloucester, including the docks. The Fire & Rescue Service set up huge pumps and laid eight 1000 yard long hoses from the substation to Llanthony Bridge so the water could be discharged into the canal rather than be put back into the swollen river.
Earlier Problems for the Canal
In both 1947 and 2007, concern about the river flooding into the canal was preceded by problems due to excessive water entering the canal from feeder streams. On both occasions, the flows were so great that even with all available sluices open, some water did flow over the canal banks, normal traffic was disrupted for a time and the River Frome burst its banks near Saul Junction. In 2007, the rise in canal level lifted the pontoons in the Victoria Dock marina so much that the electricity supply to the moorings was cut off. The outfall from the Sudbrook culvert under Bakers Quay caused a potentially dangerous cross flow in the canal for a time, a bank slip on the off side below Sellars Bridge brought a small tree into the canal, a nearby slip on the towpath side made the towpath hazardous and pollution booms were needed near Parkend Bridge and Sims Bridge.
The extreme rainfall in July 2007 followed a similar but less extreme incident a month earlier which caused the cancellation of the annual Saul Canal Festival (Photos)
Comparison of Floods
In 1947, the peak river level was reached eight days after the canal level peaked, as much of the river water came from melting snow far away in the Welsh mountains. In 2007, the corresponding interval was only three days, as in this case the flood was due to intense rainfall in the more local catchment area when the river level was already unusually high following a previous period of heavy rain. Other reports agree that 2007 river levels above Gloucester were higher than in 1947, and as the peak level at Gloucester lock was the same as in 1947, it seems that recent flood relief measures at Gloucester did give some real benefit.
Sources: Information on 1947 flood from TNA RAIL 864/44. 1947 photos from A Thomas.