MAIN SECTIONS > Home Gloucester Docks Sharpness Docks G&S Canal Vessels People Studies
STUDIES PAGES > Return to Studies Index


Gloucester Docks &
the Sharpness Canal

Saul 2007

The 11th annual Saul Canal Festival with Folk on the Water, due to be held over the weekend 29 June to 1 July, had to be cancelled because key parts of the site were flooded just as preparations were getting underway. This page shows three photos taken on 25 June when the difficult decision to cancel had to be made.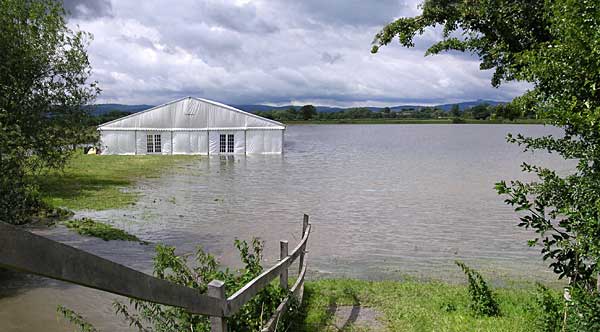 The view from the canal towpath towards the main music pavillion and the areas intended
for the trader's campsite and the general car park.


Festival organisers on the bridge over the canal
spill-weir, looking at the flooded field seen above.


The view from the canal bank looking over the
field intended for the general campsite.
Return to Top Menu Copyright Hugh Conway-Jones 2007 Contact