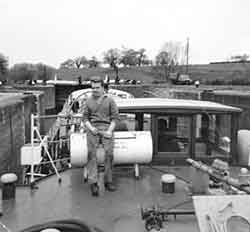 Jack Workman on board BP Miller in Upper Lode Lock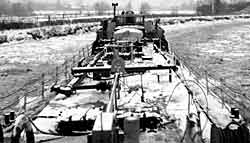 Tanker barge Wheldale rounding
Stonebench Turn in the ice
Soon after Jack Workman left school, he joined the crew of the tanker barge BP Miller with Wilf Rowles as skipper. A normal trip was down to Swansea to load, back up to Monk Meadow Dock at Gloucester to discharge half the cargo and on to Worcester with the other half. There was seldom enough water in the river to allow a full cargo to be carried up the river. When leaving Gloucester early in the morning, the crew liked to buy a tray of hot lardy cakes from the café beside the lock and eat them going up the river. It was usual to do two trips a week including Sundays when they were paid double time.
The tanker men used to buy chrysanthemums from Tom Fredericks at Hardwicke Bridge, who had a wonderful show in his garden. They could order a bunch or two when passing up the canal, and Tom had the flowers ready to collect on the return journey. To avoid the boat having to stop, Tom attached the flowers to the end of a long pole which also had a cup to receive the money.
In September 1960, the BP Miller was selected to attend the official opening of the Quedgeley oil terminal. The crew did not like this as they had to tie up for two days near the old coal tip at Sharpness to paint the boat, and this meant that they were loosing trip money. They were given special white overalls for the opening day, but they had to give them back once the ceremonies were over.
In the early months of 1963, a long spell of cold weather caused ice to form on the canal, and tugs with steel plates fitted on each side of their bow were going up and down all the time trying to keep a pathway open. In spite of this BP Miller got jammed in the ice on the way up above Purton, and Jack walked on a ladder across the ice to go and get some cigarettes for the skipper. In the morning, two tugs came down from Gloucester with two or three Harker's tankers running light behind, but it took half a day for them to force their way past and allow the BP Miller to continue. Soon after this, BP Miller went into dry dock for her annual refit, and Jack did some trips on the Wheldale.