The Marie was towed up the Worcester & Birmingham Canal by a horse. In the 1940s, during the school holidays, Reuben-3 was joined by his son Chris (pictured right), and when Reuben-3 retired, Chris took over as skipper of the Marie in the early 1950s.
In earlier times, it had been possible to turn the Marie in the entrance to Lowesmoore Basin, but by the 1950s this had become so silted up that the Marie had to be towed up the canal stern first.
Coming down the river loaded, the Marie was towed on a long rope, and she was low in the water. Care was needed, therefore, when meeting the wash of another vessel, that she didn't dig her bow in too far, and so it was usual for the Jolly and the other vessel to ease down as they approached.
Chris Russell later worked on the Sabrina 5 (now preserved at the National Waterways Museum) carrying imports from Avonmouth to Gloucester and Worcester.
Sources: Memories and photos of Chris Russell; Canal Boat Registers; Parish Registers.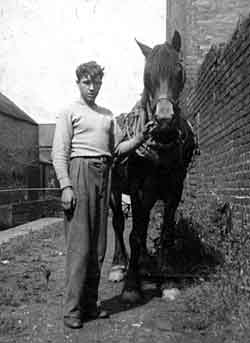 Chris Russell at Worcester in the 1940s