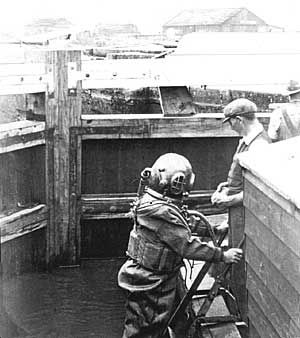 Diver's Work on Structures
A diver was particularly needed for inspecting and repairing lock and dry dock gate sills, for guiding replacement gates into position and checking how they fitted together. The picture shows Joe Lane in the Junction Lock in 1937. A diver also inspected bridge abutments and stop gates every six months and went into the larger culverts under the canal. When a pipe or cable was laid across the canal, the dredger dug out a trench for it but could not get at the sloping sides, so a diver had to dig them with a trenching spade. (Photo: Dennis Fredericks)
Diver's Work on Boats
Divers also played a vital role in recovering sunken craft, putting cables underneath by sucking away the mud to tunnel in from either side and then pushing through a rod with a line on the end. He removed anything that became snarled round a tug's propeller - usually a dredger wire that had not been slackened off properly. The water was usually so muddy that much of this work had to be done by feel. When not needed for these specialist tasks, the diver was also expected to help with general maintenance jobs.
Risks of the Job
The work was potentially dangerous. When working on the lock at Sharpness, one diver was sucked into the upper sluice culvert by the flow of water and was only prevented from going right in by the weights on his chest and back. The lockgatemen could not close the sluice because the diver's legs were through it, so they opened the other sluice to fill the lock and stop the flow past him. When working in the river by Gloucester Quay, a diver was killed when an explosive charge was detonated prematurely.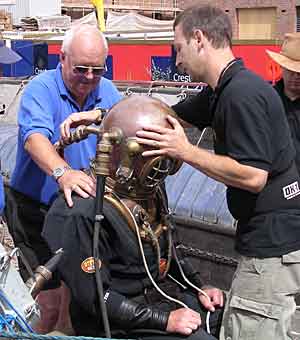 Historical Diving Demonstration
The canal maintenance team no longer includes a trained diver, and specialist contractors are now called in when any underwater work is required. However, a glimpse of past life was re-enacted on 29 July 2006 when members of the Historical Diving Society provided demonstrations of the use of the old-style divers suit with a copper helmet. Visitors watched as a diver was helped to put on his lead-weighted boots, and additional weights were attached to his front and back. A helmet was put over his head with air-pipes already attached, and two men started slowly working the air supply pump.
Diver in the Water
When all was ready, the diver walked slowly to the edge of the quay, lowered himself down the ladder and disappeared under the water. Onlookers could then follow his path, as bubbles emerged from his helmet, and could hear his comments over the intercom system. A second diver in modern kit was standing by in case of emergency, but he was not needed.