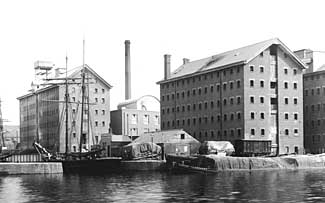 Corn Merchants
Corn merchants imported wheat, oats, barley, etc, and arranged for sacks to be stored temporarily in their own warehouses until they were delivered to a customer. Gloucester became a major corn port serving the growing industrial towns in the Midlands. Early imports mainly came coastwise from other parts of Britain and Ireland, but in later years much foreign corn was imported. The principal merchants during the 19th century are listed below.
In later years, the warehouses at Gloucester were mainly managed by warehousemen who did not own the corn being stored but just charged a rent for the space occupied.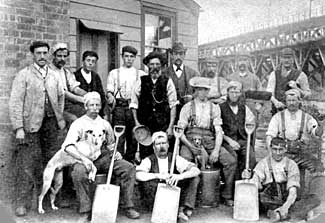 Corn Handling
The corn arrived in bulk in a ship's hold, and in the early days, men were employed to shovel the corn into sacks that were checked for weight and then lifted into the warehouse. When the level in the hold was getting low, it was common to see rats emerging, and a good ratting dog was an important member of the team. When the corn was sold, the sacks were taken out of the warehouse and sent on to the customer by boat or by rail. The employees who handled the sacks were usually called corn porters.
In later years, floating pneumatic elevators were used at Sharpness to suck the corn up and blow it directly into the warehouse.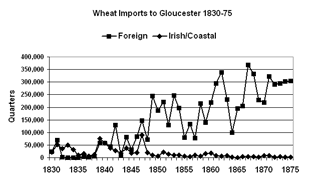 Wheat Imports
The corn trade was risky as demand and prices were very dependent on the quantity and quality of the home harvest. In the early days, foreign imports were subject to a sliding scale of duties which varied according to the average price of wheat in home markets. However, import duty was effectively abolished by the repeal of the Corn Laws in 1846, and the graph shows how Gloucester shared in the subsequent growth in foreign imports.
Millers
In the early days, most of the corn was sent on to existing water-powered mills in the Midlands, but during the 19th century, some steam-powered mills were established around the docks. The principal millers during the 19th century are listed below.
Principal Firms in the Corn Trade in the 19th Century
Henry Adams & Co
Bretherton & Pitchford
G & W E Downing, maltsters
Foster Brothers, oil and cake mills
S H Fox & Co
J & J Hadley, City Flour Mills (more)
William Hall & Sons, St Owens Mill
J P Kimberly
S W Lane
W C Lucy & Co
Phillpotts & Co
Priday Metford & Co, City Flour Mills (more)
James Reynolds & Co, Albert Flour Mills
Thomas Robinson & Co
Spiller & Co
J & C Sturge
Turner Nott & Co
Vining & Co
Wait James & Co
John Weston & Co