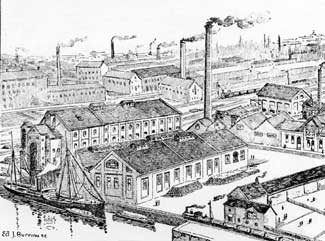 Expansion
A major expansion of the premises was carried out in 1891-93. A new mill was set up in a long single storey building to the south of the existing warehouse, the original mill was replaced by an extension to the warehouse, and a detached boiler house and a tank house were built to the east. A 400hp Hicks Hargreaves steam engine powered eight sets of oil-seed crushing machinery with an output capacity of 600 tons per week.
Unfortunately, while these developments were underway, part of the quay wall in front of the warehouse moved outwards, and as this threatened the stability of the pillars and the projecting elevator housing above, these were pulled down. In due course the wall was repaired and a new (but less elegant) structure was built on pillars to house the elevator.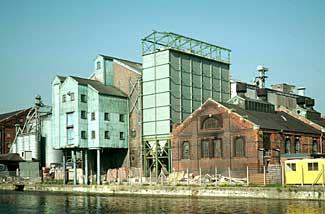 Later Days
The site continued to be developed as new plant was installed until the mill was superceded in the 1950s when BOCM installed a big new oil extraction plant at Avonmouth.
Following the closure of the mill, the site was sold to West Midlands Farmers who mainly used the buildings as a distribution depot for products for local farmers. Imported grain was delivered by coaster during the 1970s, and some new machinery was installed for milling and mixing animal feeds.
Sources
Glos Chron 26 Jul 1862, 3 Sep 1910, 3 Feb 1923; Glo Jnl 21 May 1892; Glos Coll JV 13.1, JR 13.8, NQ 15.8; memories of former employees. Upper illustrations by kind permission of Gloucestershire Archives Glos Chron 3 Feb 1923, NR 3.1.