For more canal history, see Wreck of SS Argentina Memories of 1940s Parkend Memories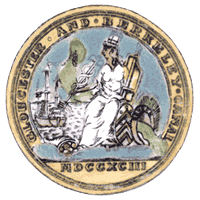 The original plan for a ship canal between Gloucester and Berkeley was authorised by an Act of Parliament in 1793 (see Company seal right). The aim was to bypass the narrow winding stretch of the River Severn below Gloucester, but the Company ran out of money when only one third of the canal was completed. After several years of inactivity, work started again on a route to Sharpness, which was seen to be a better place for an entrance from the River Severn, and the canal was eventually completed in 1827.
In the early days, there were no facilities for cargo handling at Sharpness and all ships passed up the canal to discharge in the basin at Gloucester. With their sails furled, the ships were initially towed up the canal by horses and in later years by tugs. Many ships carried grain imported from northern Europe, Mediterranean countries and ports on the Black Sea. Many others brought timber from the Baltic countries, north Russia and North America. At Gloucester, the grain was stored in warehouses and the timber in open yards that gradually spread south alongside the canal. Other imports included wines & spirits, fertilizer and some foodstuffs.
Most of the imports were initially carried further inland by barges and canal boats using the River Severn and the network of canals in the Midlands. Later the railways provided an additional means of distributing imports. Some ships took away salt, but many went to a South Wales port to load coal.
When the growing size of ships in service became a problem, a new dock was built at Sharpness in the 1870s to accommodate them. Warehouses were built at Sharpness, and traffic on the canal gradually changed to a predominance of barges and lighters towed by tugs. Many of these passed through Gloucester on their way to the Midlands, and the need for handling and storing goods at Gloucester slowly declined.
Following nationalisation in 1948, improvements to the canal structures succeeded in attracting small ships to Gloucester again, and there were many tanker barges carrying petroleum products. However, the barge traffic died out in the 1960s and the ships ended in the 1980s due to the growing use of pipelines, containers and modern road transport.
Sharpness continues as a successful port handling bulk cargoes such as cement, fertilizer and scrap metal, while the canal is used by pleasure craft and as a channel for River Severn water supplying a large part of Bristol.