MAIN SECTIONS > Home Gloucester Docks Sharpness Docks G&S Canal Vessels People Studies
PILOTAGE PAGES > People Index Canal Pilotage Canal Pilots Channel Pilotage Channel Pilots

Gloucester Docks &
the Sharpness Canal

Canal Pilots

This page provides information about individual pilots who guided ships along the canal, and another page outlines the role of the canal pilots.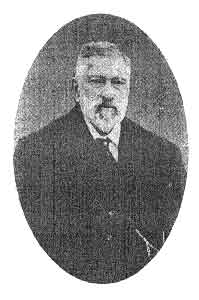 Smith/Woodward Family
Henry Smith (right) was a canal pilot for forty years. His father died when he was a baby, and his mother married her cousin Thomas Woodward, a canal pilot who also established the Pilot Inn at Purton. In his early twenties, Henry became the mate of the passenger steamer Wave, but he soon joined his step-father in piloting ships along the canal. He later moved to Gloucester and continued as a pilot whilst also running various public houses in Gloucester. Meanwhile, his step-fatherís son James Woodward also became a canal pilot and later inherited the Pilot Inn at Purton.
Davis Family
Walter Davis of Purton was a canal pilot for over twenty years, but his licence was withdrawn after a couple of incidents. First he was fined ten shillings for a breach of regulations, and then after a ship in his charge was badly damaged, his licence was permanently withdrawn. In spite of this experience, five of his sons followed him as canal pilots, giving a cumulative service of over 160 years. Walterís eldest son Henry was in trouble when he allowed a tug to tow a vessel too fast and without ropes ashore, but there was no actual damage, and he was just suspended for a fortnight.

Name

Born
circa

Resided

First
noted

Last
noted

Notes

Abell, William

1833

Gloucester

1881

1891

Ballinger, Thomas

1831

Gloucester

1881

1881

Clark, Joseph

1809

Gloucester

1849

1881

Cook, George

1811

Wanswell

1849

1876

Also landlord of Bird in Hand Inn, Berkeley, by 1871

Cook, George

1842

Halmore

1867

1881

Became a stevedore at Sharpness by 1891

Cook, Henry

1842

Wanswell

1867

1881

Son of George Cook (b c1811)

Daniel, Henry

1834

Purton

1861

1861

Davis, Albert John

1857

Purton

1891

1910

Sixth son of Walter Davis

Davis, Alfred

1855

Purton & Gloucester

1881

1910

Fifth son of Walter Davis
Moved to Gloucester by 1901

Davis, George S

1841

Purton

1891

1910

Second son of Walter Davis

Davis, (William) Henry

1837

Purton & Gloucester

1861

1910

Eldest son of Walter Davis

Davis, James

1814

Purton

1849

1855

Brother of Walter Davis

Davis, Sidney

1846

Purton

1871

1910

Fourth son of Walter Davis

Davis, Walter

1811

Purton

1849

1871

Five of his sons became canal pilots

Dimery, Thomas

1857

1910

1910

Formerly a channel pilot and then landlord of the Pier View Hotel, Newtown

Dowdeswell, Frank

1860

Purton

1891

1891

Son of Frederick A Dowdeswell

Dowdeswell, Frederick A

1825

Purton

1855

1881

Everett, John

1826

Gloucester

1881

1881

Gaston, Edward

1827

Purton

1861

1881

Grendall, Richard

1810

Gloucester

1849

1855

Established the Pilot Inn at Gloucester and organised a sheep roast on the ice in 1855

Hadley, Edward

1816

Gloucester

1851

1851

Hill, Richard

1841

Gloucester

1881

1881

Halford, George

1838

Gloucester

1869

1891

Son of James Halford

Halford, James

1810

Gloucester

1849

1873

Langford, John

1834

Purton & Brookend

1861

1891

Lewis, Henry Augustus

1824

Gloucester

1855
1882

1879
1889

1879-82 Assistant Dock Master at Gloucester

Lusty, Daniel

1819

Purton

1849

1869

Lusty, Frederick

1852

Purton

1881

1910

Son of Daniel Lusty

Lusty, George

1849

Purton

1881

1881

Son of Daniel Lusty

Organ, Abraham

1833

Standish & Whitminster

1881

1901

Phillips, Henry

1910

1910

Powell, John

1829?

Gloucester

1849

1855

Price, William

Purton

1894

1923

Reece, Edwin

1828

Gloucester

1864

1902

Brother of Frederick Reece

Reece, Frederick

1822

Gloucester

1849

1873

Brother of Edwin Reece

Rutter, Thomas

1822

Purton

1851

1861

Schollar, William

1815

Gloucester

1855

1861

Smith, Daniel

1838

Wanswell

1873

1910

Son of channel pilot Daniel Smith

Smith, Henry

1830

Purton & Gloucester

1854

1894

Step-son of Thomas Woodward. Also became publican in Gloucester by 1876

Smith, Henry Samuel

1823

Purton

1849

1849

Became a channel pilot in 1850

Smith, William

1834

Halmore

1870s

1881

Speck, Jeremiah

1807

Gloucester

1849

1873

Speck, John

1834

Gloucester

1881

1901

Son of Jeremiah

Tandy, James Samuel

1835

Gloucester

1881

1881

Turl, George

1839

Gloucester

1881

1881

Also a ship rigger

Wathen, Frederick

1819

Gloucester

1870

1871

Licence withdrawn for incompetence

Woodward, James

1841

Purton

1861

1881

Son of Thomas Woodward and also landlord of Pilot Inn at Purton

Woodward, Thomas

1814

Purton

1849

1876

Also landlord of Pilot Inn at Purton

Woodward, Thomas

1824

Gloucester

1867

1873
Sources: Canal Co minute books in TNA; trade directories; census returns
Return to Top Menu Copyright Hugh Conway-Jones 2007 Contact