MAIN SECTIONS > Home Gloucester Docks Sharpness Docks G&S Canal Vessels People Studies
STUDIES PAGES > Return to Studies Index

Gloucester Docks &
the Sharpness Canal

Saul Canal Festival 2005

Hundreds of boats and thousands of people attended the annual Canal Festival and Folk on the Water Weekend 1 to 3 July 2005 at Saul Junction.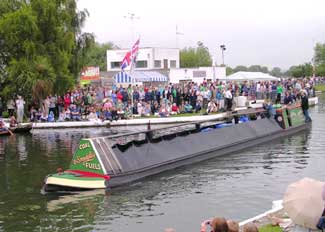 Visitors could see a wide variety of boats, browse the trade and charity stands and enjoy a range of musical and theatrical entertainments. The event was organised by the volunteers of the Cotswold Canals Trust to raise money and support for the restoration of the canal link to the Thames at Lechlade.
Pictured right is John Jackson's Roach which won the Cemex Cup for the Best Turned-out Commercial Boat (and see centre picture below).
| | | |
| --- | --- | --- |
| Boats built by R W Davis & Son moored by the boatyard | Boat trips were available throughout the weekend | Colourful trade boats moored beside the towpath |
| Ropemaking by Friends of the National Waterways Museum | John Jackson (see top picture) | Winner of the Morrison Cup for the Best Turned Out Boat |
Return to Top Menu Saul Festival 2004 Copyright 2005 Hugh Conway-Jones Contact