MAIN SECTIONS > Home Gloucester Docks Sharpness Docks G&S Canal Vessels People Studies
STUDIES PAGES > Return to Studies Index


Gloucester Docks &
the Sharpness Canal

Aggregate Cargo 2006

On 3 March 2006, commercial barge traffic returned to the Gloucester & Sharpness Canal after an absence of many years. The motor barge Perch carried a cargo of sand to the CEMEX concrete plant at Two Mile Bend, raising what turned out to be false hopes of a long term programme of such movements.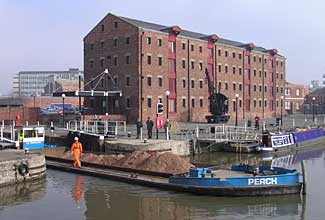 First Cargo of Sand
Motor barge Perch had collected her cargo from the CEMEX aggregate processing plant at Ryall, near Upton upon Severn, some 18 miles up the River Severn from Gloucester. Raw aggregate extracted from a quarry near Ripple, two miles to the south, was taken by barge to the processing plant, where it was washed and separated into various grades of gravel and sand. Perch, a former mud hopper now owned by Thompson River Transport, is normally to be seen on the short haul movements between Ripple and Ryall. For the inaugural trip to the concrete plant at Two Mile Bend, she was carrying 150 tonnes of the grade of sand suitable for making concrete.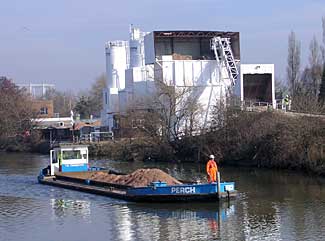 Environmentally Friendly Transport
Although built beside the canal, the concrete plant at Two Mile Bend (pictured right) has so far only been served by road. Transport by barge would help to relieve traffic congestion in an environmentally friendly way whilst working in harmony with the waterway's role as an important leisure facility. Over the next 10 years it was hoped that this operation would save over 340,000 lorry journeys, and the fuel consumed by a single freight barge would be one fiftieth of that required by a single lorry.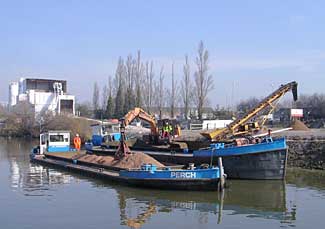 Delivery at Two Mile Bend
The first cargo of sand was discharged at a newly cleared area to the south of the concrete plant. This land was reclaimed many years ago by filling in the former timber pond used by Morelands for storing poplar logs that were to be made into match splints. Although Perch was used for this inaugural trip, it was hoped that the regular traffic to Two Mile Bend would be handled by the larger barge Transient travelling twice a week. Unfortunately Transient was found to be too large for the current state of the river above Gloucester, and there have been no further movements of aggregate by barge.
Return to Top Menu Copyright Hugh Conway-Jones 2006-10 Contact