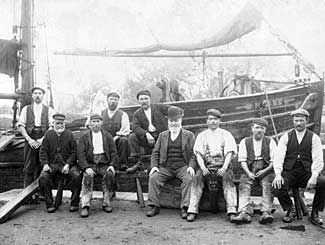 Ship Owners and Crews
Most of the big ships using the canal and docks were not locally based, and during the nineteenth century it was common to see groups of visiting sailors on the streets of Gloucester, including many foreigners. A few big ships were owned by Gloucester merchants, but these usually picked up most of their crew at other ports. Some smaller coasting vessels were owned locally, and many of these were crewed by men from the area around Frampton, Saul and Arlingham. The occupation of these crewmen was usually recorded as mariner or seaman. For information about a leading local owner, see James Herbert.
Barge Owners and Crews
In the early days, the canal was much used by shallow-draught trows and barges trading between up-river towns and the ports of the Bristol Channel, and most of the owners and crews were based in the Midlands. Competition from the railways forced some owners out of business and others to amalgamate until most of the remaining traffic was handled by the Severn & Canal Carrying Company, which established its base at Gloucester. Following the opening of the new dock at Sharpness in the 1870s, there was an additional need for lighters to bring cargoes to Gloucester, and these were provided by Mousell Chadborn & Co and G T Beard, both firms having depots at Gloucester and Sharpness. In the 20th century, the canal was also busy with tanker barges bringing petroleum products from Avonmouth, and many of these were owned by John Harker Ltd from Yorkshire and were initially crewed by Yorkshiremen. The occupation of these crewmen was usually recorded as waterman, bargeman or lighterman. (More details)
Canal Boat Owners and Crews
Throughout the commercial life of the canal, locally owned narrow canal boats crewed by Gloucester men were used to carry goods between Gloucester and places on the narrow canals in the Midlands. Some were owned by corn and timber merchants and carried imports direct to customers. Many were owned by the Severn & Canal Carrying Company and carried a range of cargoes for a variety of customers. Some were owned by local coal merchants or individuals and mainly collected coal from the collieries in the Midlands. The boats were known in Gloucester as longboats and the occupation of these crewmen was usually recorded as boatmen or watermen. For a description of a typical trip to Birmingham and back, see Going 'Up Country'.