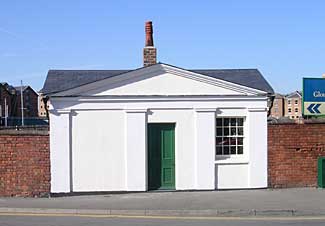 Origin
The weigh-bridge was set up in 1849 primarily to weigh wagons carrying goods to and from the docks, although it was also available for other purposes. This was at the time of the completion of the nearby Victoria Dock, and the same contractor was employed. Each wagon was weighed empty and loaded, and the operator issued a ticket showing the weight that had been delivered or collected.
Operation
The first operator was Nathaniel Hamlet, a Chelsea pensioner from the 83rd Regiment of Foot who had previously been employed by the Canal Company as a watchmen. After a year, he was promoted to be lock keeper and toll collector at Saul Junction, and he was replaced by Richard Hudson, another of the watchmen. The charges for using the machine were 2d per ton for coal, manure, stone and gravel and 3d per ton for all other goods. As it was part of the operator's job to collect this money and account for it to the Canal Company, the operator was required to name a guarantor who would pay up to £50 if he defaulted.
Twentieth Century
A new mechanism was installed in 1902 that was capable of weighing 15 tons, and that in turn was replaced in 1925 by equipment that could weigh up to 20 tons. People remember it still being used in the 1950s and 1960s, particularly for weighing builders materials, and on one occasion it weighed an elephant - presumably as a publicity stunt for a circus!
Sources: PRO RAIL 829/10, RAIL 864/6; Bye Laws 1855; NWM Dock Co Engineer's Report 1925.